Regular price
Sale price
£14.99 GBP
Unit price
per
Savings
Sold out
Share
Smoothing hair wrap offers a gentle, quick-drying solution to protect hair when it is at its most vulnerable
Description

Seoulista Silky Locks® is an innovatively designed, ultra-gentle hair wrap that quickly and gently dries hair while protecting it from the damaging effects of friction - including breakage, thinning, frizz and split ends.

This lightweight hair wrap is kind to hair and, unlike traditional towelling, which can weigh heavy on your head, stops dragging at the roots to keep hair smooth and healthy from root to tip.

The hands-free design makes it convenient for multi-tasking – simply secure over your head and continue your getting-ready routine.
Ingredients

Made of a rapid-dry micro-fibre suede, each square inch of fabric holds close to 200,000 fibres to reduce drying time and preserve hair's natural health by minimising friction and breakage. Hair is left stronger and more manageable, with a beautiful silky feel.
How to use

1. Lean forward and squeeze excess water from your hair.

2. Place the hair wrap over your head.

3. Ensure all hair is inside the wrap before you twist and secure on your head using the button at the back.

4. When ready, remove and style as normal.
Top Tips

• Hang up after use for quick drying.

• Apply an instant facial to your skin while you wait.

• Portable and fast-drying, take it with you to the gym or whilst travelling.

• Use after our hair treatments for optimal results.


Shipping

FREE UK Delivery when you spend over £25, or £3.99 if minimum shipping criteria not met.

FREE International Shipping when you spend £50, or £5.50 if minimum shipping criteria not met.

For full shipping details, visit our Shipping page.
View full details
Customer Reviews
Angela B.

Ireland
I recommend this product
11/06/2022
A engenius product for busy women who want to save time drying their hair & feel glamorous all at the same time!
I am a fan of hair turbans for drying my hair after the shower anyway but this product is just amazing! It's such a luxurious product that dries hair in no time while not causing any frizz or damage by its light weight design! I will definitely repurchase especially for trips away to save time drying my hair!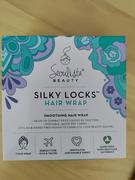 Rebecca O.

Ireland
I recommend this product
06/06/2022
Brilliant invention
I had no idea something like this could exist and I absolutely love it. I don't have much time and it absolutely speeds up the drying process and my hair came out looking really good. Will definitely buy another.
Anonymous

United Kingdom
I recommend this product
22/03/2022
Brilliant discovery
I've been looking for something to replace my towel wraps that don't just cover my head and this is fab. It does remove the moisture from my hair and it's pretty too. I've bought them for my family too.
Anonymous

United Kingdom
I recommend this product
21/03/2022
Silky locks hair wrap
The best thing I have ever bought for my curls! Makes the drying process less harsh on my hair and puts the curls back after washing it while I'm getting dressed!
Anonymous

United Kingdom
I recommend this product
14/02/2022
Perfect long hair beauty tool
Great product for drying long hair because of the microfibre fabric. Looks good too - 10/10.