Regular price
Sale price
€12,00 EUR
Unit price
per
Savings
Sold out
Share
Double-layered treatment designed to help restore luminosity and shine to blonde hair
Description

Created for all shades of blonde, Seoulista Blondi Locks® hair treatment helps to restore a sleek, luminous shine to dull tresses. Designed to deeply hydrate, strengthen and deliver a silky smooth, glossy sheen to blonde hair.

Generously infused with 35ml of intensive serum, the unique cap traps the natural heat from the head to aid absorption, and the drip-free formulation leaves blonde hair with a shimmering softness and irresistible gloss.
Ingredients

Illumoplex™ - a concentrated complex of shine enhancing actives helps to restore luminosity to blonde hair.

Multi-dimensional Hyaluronic Acid - Penetrates the hair shaft for a deep hydration as well as visible surface-level softness.

Camellia Oil - Blend of proteins and Vitamin E helps to condition hair whilst improving texture, elasticity and shine.
How to use

1. Shampoo and towel dry your hair, then twist upwards onto your head.

2. Put the mask on your head, ensuring all your hair is inside, and seal with the sticker.

3. Massage hair through the mask to ensure an even distribution of product and to stimulate the scalp at the roots.

4. Leave for 15 minutes before removing the mask and rinsing thoroughly.

Top Tips

• For best results, use weekly.

• Use alongside Seoulista Silky Locks® Hair Wrap for healthy, smooth strands and to minimise blow drying time.
Shipping

FREE UK Delivery when you spend over £25, or £3.99 if minimum shipping criteria not met.

FREE International Shipping when you spend £50, or £5.50 if minimum shipping criteria not met.

For full shipping details, visit our Shipping page.
View full details
Customer Reviews
Anonymous
I recommend this product
19/07/2022
Super soft and sheeny
Heavenly scent too!
Anonymous

United Kingdom
I recommend this product
17/06/2022
Blondi locks hair mask
I loved this hair mask. I have fine hair and this mask, unlike others , left my hair soft and glossy. The mask is very easy to apply and the 'scarf' keeps your head warm and catches any drips while you wait for it to work its magic. Thoroughly recommend.
Angela B.

Ireland
I recommend this product
11/06/2022
A must have product for all blondes!!
I used the Seoulista Blondi Locks hair mask for the first time recently & wow, just wow! It left my hair hydrated, shiny, bright & full of life for the first time in months after having my baby 11 weeks ago! A must have product for all blondes to give it a boost & it's such a nice treat to have 15mins to yourself!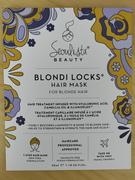 Danielle

United Kingdom
I recommend this product
10/04/2022
Omg amazing result!
OMG my hair has been honestly been brought back to life, looks SO shiny, feels SO healthy and is SO much more manageable. After one mask and one night, I woke up with my hair looking just as good as the day before, no going over with straightening irons, no bed head and I've had so many comments too. I highly recommend you to try this miracle hair mask, especially if you've naturally curly hair that is dyed blonde! I will be doing this at least once a month for sure! Please create a shampoo and conditioner infused with the same amazing ingredients ❤️
Anne-Louise G.

United Kingdom
I recommend this product
05/04/2022
I ❤️ this
Glossy locks def lives up to it's name. This mask is really easy to use - there is tons of treatment cream but it's not messy as all stays in the wrap. My somewhat frazzled hair looks smooth and in great condition. I've started using before big nights out and have even taken a couple on holiday.