Regular price
Sale price
£8.39 GBP
Unit price
per
Savings
Sold out
Share
Purify and refine the skin for a healthy, balanced complexion with this naturally cooling, detoxifying facial made from biodegradable bamboo
Description

Seoulista Charcoal Detox Instant Facial® is designed to help purify, cleanse and refine congested and imbalanced complexions.

Our unique bamboo fibre uses a natural transfer system that delivers the active ingredients of this targeted serum deep into the skin to simultaneously cleanse, hydrate and detoxify.

A one-step facial at home, this detoxifying, high-performance treatment should be used weekly to deliver superior results, equivalent to a salon facial. After just 20 minutes, your skin is left looking and feeling healthy, clear and balanced.
Ingredients

Charcoal - Made from activated carbon and minerals, charcoal is a powerfully detoxifying ingredient, which absorbs accumulated impurities.

Volcanic Ash - Volcanic ash is high in sulphur known for its anti-bacterial, anti-viral and overall disinfectant qualities.

Niacinamide - Also known as vitamin B3, it helps to smooth skin texture, minimise enlarged pores and improve skin clarity.
How to use

1. Cleanse your face throughly and unfold the facial.

2. Press the facial on to the skin, then smooth down to fit your facial contours.

3. Allow the serum to infuse for 20 minutes before removing.

4. Smooth the remaining serum into the skin. Do not wash off.
Top Tips

• Use at night when the cleansing ingredients can be more easily absorbed.

• Use the extra serum in the pack for your neck, chest & hands.

• Store in the fridge to further enhance the cooling benefits.
Shipping

FREE UK Delivery when you spend over £25, or £3.99 if minimum shipping criteria not met.

FREE International Shipping when you spend £50, or £5.50 if minimum shipping criteria not met.

For full shipping details, visit our Shipping page.
View full details
Customer Reviews
Beckyboo

United Kingdom
I recommend this product
09/06/2022
I loved it
I loved this mask but it was fiddly to put on but most are like this anyway but with it being black it seemed harder. Once on it was lovely and smelled lush. It was absolutely soaked so if you love them drenched try this one. Korean skincare is the best for masks in my opinion and I don't usually do reveiws on them but had to with this one. The only thing is my partner wore one and it stung him a little on his cheeks and mouth area.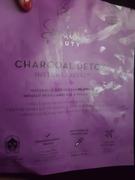 Anonymous

Ireland
I recommend this product
15/06/2021
Seoulista Charcoal Detox Instant Facial
Excellent Mask, my skin felt rejuvenated afterwards.
Cíara

United Kingdom
I recommend this product
29/04/2021
Refreshing
Excellent product, very soothing and calming on the skin. Skin felt soft and healthier instantly after use. Highly recommended.
Anonymous

Ireland
I recommend this product
24/02/2021
Excellent
Such a pleasure to use these products. Skin sometimes feels a bit muggy, and this mask really makes a difference, skin feels really refreshed afterwards. Really enjoy them and have spread the love to some family and friends. Thank you for the joyful moments during a tough year.
Hannah G.

United Kingdom
I recommend this product
02/02/2021
Just wow
2 days after having used this mask my face still feels hydrated, I'm not saying that the acne I have on my chin from continual heavy duty mask wearing has gone away overnight but it is certainly less inflammed and angry. I would certainly buy this again.